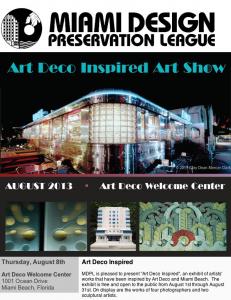 The Miami Design Preservation League is pleased to present "Art Deco Inspired", an exhibit of artists' works that have been inspired by Art Deco and Miami Beach. The exhibit is free and open to the public from August 1st through August 31st. On display are the works of four photographers and two sculptural artists.

Please join us for the Artists' Reception on August 8th from 6 to 9pm at the Art Deco Welcome Center at 1001 Ocean Drive, Miami Beach,Fl 33139


Jimmy Agostinho
Mr. Agostinho creates wooden replicas of Art Deco hotels. The hotels contain drawers that can be used to store jewelry and secrets.

Luca Artioli
"ArtDECOnstruction" is an amazing series of photos that offers Miami, an absolutely unexpected and original vision of the Art Deco Historic District.

Bruce Carrington
"Tropical Deco Motif Collection" captures the various shapes, forms & designs created by notable Art Deco architects during the 1920-1940's era. ...